Hello jammers! On this page I post things about betas or about the beta days. If you have anything beta not on here you would like me to post about just comment or email me at animaljamactive@gmail.com. Oh, also, just so you know, most of these pictures I
do not
own. Time to go back in time! ^.^
Beta vs. Rare
Ok jammers! Before we start I would like to get one thing clear. What the difference is between beta and rare. And no, I'm not talking about items with the rare symbol on it.
Beta- An item that was sold in the beta days and hasn't been back in stores since 2010.
Rare- An item that is currently out of stores.
Beta Items
Here is a complete list of Beta items:
Founders' Hat
Scarecrow
Gecko Banner
Beards
Cat Banner
Cami's Frog
Gumball Machine
Fountain
Art Easel
Fancy Chest
Rocking Horse
Robot
Open Sign
Basketball
Small Table
Zios Sculpture
Television
RC Car
Skully
Beta Tiara
Blue Vines (Flooring)
Fire Pit
Beta Mat (orange and blue colors)
Mech Angel Helmet
Rhino Helmet
Moon Dirt
Mira Statue
Red Brick Walls
Mask
Yellow Sweets
Planet Walls
Flower Carpet
Tan Carpet
Pink Eyeball Hat
Porch Swing
Viking Helmet
Spaceship Grey
Arctic Hood
Blue Shag Carpet
*List from Animal Jam Sky
Beta Day Articles
Here are just some various posts about beta days and items!
The dens then were VERY VERY big! Much bigger than the dens now! There were stairs, bridges, ladders, and lots of levels! Of course they couldn't change dens, though. Oh, did I mention these four pictures are ONE den!!!
This was what their map looked like. Four worlds we have now weren't there!
Crystal sands in the beta days! Notice there are no slides or bridge that leads to underwater. Also there is a cave with Sir Gilbert's head!
Then the Daily Explorer had a picture like that. And now we have had then since then.
Comment below which one you like better!
Jamaa Township was also different too! There was a stone where the Jammer Central is now. Does it look like an alpha stone or something to you? Maybe an adventure portal?
Comment below what you think it is and why it's there!
Notice other achievements!
It looks like Jam Mart Clothing was here instead! Look at the name tags. They're different too. Back in the beta days, there were no members!
This is what some of the items in store were. Woah! These items are cheap comparison to the prices we have now! A lot of beta items were in stores!
Sarepia Forest looked different too! There was no slide!
Also look at this big mushroom!
Comment below if you think the new Sarepia is better or worse!
And here is the beta days clothing menu and trade list.
Notice that the eye color tab looks different than now. And there is a clear button! Another thing to think about is the cursor. Look at how different it was then than now!
Comment below if you think the new clothing menu is better or worse!
And this was the Jamaa Journal:
I think this version looks more like a journal or newspaper. I like it
Comment below if you like the new or old version of the Jamaa Journal better?
Also, there were some special segments a while ago,
Oh, this is cool! There were Jammer Spotlights and Wild Wednesdays where we have Jammer Central!!! Wouldn't it be cool to have the Jammer Spotlight on you? And if you look at the Wild Wednesdays, you can see it talks about guides. Well, here are some guides
Looks like the guides would help you around Jamaa, maybe even check if there are any jammers breaking the rules.
Also, there are some beta items that were deleted such as the beta top hat. There is no jammer in all of Jamaa that has this item since it was permanently deleted. I personally love the color and wish it was not removed from the game!
And Skullys
These items seem to be very popular, even now, although you can't buy them or get them anywhere because they were deleted by AJ. It's not my favorite item but it's not bad at all! Why do you think AJ deleted it?
Comment below why you think they were deleted!
Ok jammers, now I'm going to tell you about some beta items!
First, we have the beta tiara! It's green with a blue gem!
Many jammers get it mixed up with the tiara you can buy in stores. The one in stores has a red gem (as you can see above). Unfortunately, many jammers get scammed because of this :(. Scamming is a terrible thing, never do it, jammers!
Ok, back to topic, we have the Fancy Chest! The beta one is purple, pink, and a little bit of blue. Magenta lacy and purple engraved designs. The non beta one is the one that's sold every year around the Friendship Party! Pink, pink, and more pink!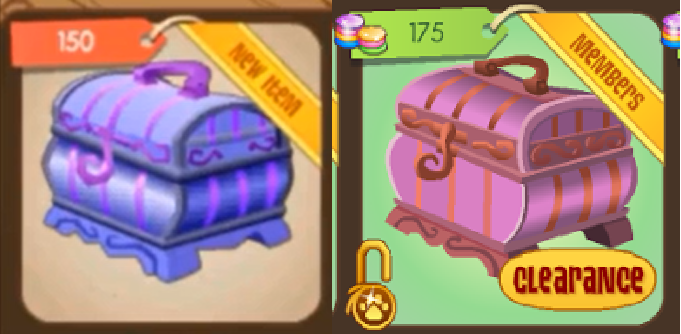 Next item, are tail armor and beta tail armor. There are only 4 beta tails. I love this item and especially love the white beta one!
Beta ones are white, green and blue, the greenish yellow and red, purple and black, and pink and red. All the ones on top row.
The shell fins! You could wear them on the underwater version of Best Dressed but for some reason you could never buy them! O.O
So, the next item is the Beta Blanket, or as some of you may know it the Rare Old Blanket. The nickname the Rare Old Blanket is much more appropriate for this item because it isn't beta. It was sold after beta days. It's just a bit lighter color than the one in stores, so some jammers get it mixed up
Rare Version